Dealspotr Review: Does It Really Save You Money and Earn Rewards?
When you have a budget and need to save money, where do you turn? Do you have a favorite app to use? Visit deal websites? Coupon?
As a mom with four kids and a tight budget, I spend a lot of time finding ways to save money. I am constantly scouring for deals online or by using my money saving apps. Many times, I score great deals, but only some of those times I earn rewards back from my shopping activities.
When I was introduced to Dealspotr thanks to another blogger, I found that I could:
Save money while shopping
Save time by finding the right deals
Earn rewards from shopping activities AND just for finding deals
I admit that I was skeptical at first since I have already tried other deal websites but have not been successful in both saving money and earning rewards, but I gave it a chance any way.
(I was compensated for this post on behalf of Dealspotr, where I am an influencer member. All words and opinions are mine. Referral links are included in this post. All images below are actual screenshots of how DealSpotr works for me.)
What is Dealspotr?
Dealspotr is a free, real-time coupon and deal sharing platform where users validate and invalidate deals daily. Unlike other deal saving sites, Dealspotr lets you know the likelihood of a deal working or not based on expiration dates and whether users were successful in using the coupon or deal. You can see right away if you are going to save money thanks to the community of users checking deals constantly.
Since Dealspotr is community based, anyone can join and add or validate codes, but that doesn't mean quality is lacking. In fact, since the community is given incentive (rewards) to add or validate deals or coupons, you can ensure that the deals and coupons you find are most likely going to work.
Dealspotr is also very organized. Deals and coupons can be sorted by interest, type, or store. You can even just use the search function to find what you are looking for.
[bctt tweet="Want to save money AND earn rewards? Learn how you can do BOTH with @Dealspotr! #savemoney" via="no"]
How to Save Money Using Dealspotr
It's easy to save money using Dealspotr. Once you have joined for free, you'll be encouraged to add your interests and favorite stores. From there, your Feed will be developed. Your feed is personalized and will be updated in real time daily, so you will constantly see new deals and coupons for your favorite interests or stores added and you won't need to go looking for them.
You can also sort for deals in the menus. Find the Latest, Trending, Hot, or On Fire Deals in any category (exclusives, promo codes, product deals, etc). You can also browse deals by store or interest.
Once you find the deal you are interested in:
You click on the title of the deal and follow the instructions. You may be given a physical coupon to print or a promo code to use online, or be given a link that takes you directly to an online deal.
When you're done and have used the tips to get a deal, you return to Dealspotr to let them know if the deal worked. That tells anyone else who may want to use the same deal whether or not the deal is valid.
If you saved money, you are given the option to enter how much you saved.
You can also share the savings on social media channels so that your friends and family can save money too.
Of course, there may be times when a deal doesn't work. In that case, you let the system know by clicking 'No' if the deal doesn't work, and explain what happens.
That's it! If you're just looking to save money, it's quite simple to use Dealspotr.
How to Earn Rewards Using Dealspotr
Of course, rewards do make things a tad sweeter.
Dealspotr offers points for completing activities on the site. Points are added up daily, and can earn you Amazon gift cards. You can earn points for:
Posting a deal
Validating or invalidating a deal
Completing your daily checklist (200 bonus points daily)
Referring new members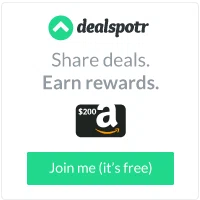 For every 10,000 points you earn, you can get a $10 Amazon gift card. So, if you have 20,000 points, you can redeem them for a $20 Amazon gift card.
When posting or validating deals, points are determined by a number of factors, including:
how accurate your deal is,
how much information you add,
whether or not you add a screenshot for proof,
whether or not the deal was validated by other community members,
and whether your deal is determined valid by the community.
I personally have seen points as low as 2 and as high as 150+.
To validate a deal, it is not necessary to purchase a product. You just have to prove that a deal/promo code works and is accurate, screenshot the website, and that's it!
Posting deals on Dealspotr is easy and is basically a fill-in-the blank process. Dealspotr leads you through all of the details, including:
the store or website where the deal is located
what type of deal it is
what bonuses/freebies are includes
terms and conditions
expiration date
and a screenshot of the deal working.
Another way to earn rewards is from referring members. When you refer new members, you also earn 10% of the points they earn for the lifetime of their membership (20% for influencers, see more about that below!). They'll get 5,000 points for joining through you, and when they refer new people, they can earn referral points too!
Dealspotr Review
Okay, so does Dealspotr really work? I told you how to use it, but this is what I think about it.
I have been a member of Dealspotr since January 2017. At first, I joined, but didn't know what to do with it, so I let my account just sit. It wasn't until the end of February that I looked at my account again.
I was actually surprised at how easy it was to use the site once I browsed around. Probably the easiest thing to do was to complete my new user checklist, which basically gives you a good idea of how to use the site.
From then on, I started using my Daily Checklist to earn points every day. When I'm having my alone time with my coffee in the morning, I go over my checklist to see what I need to do to earn a bonus 200 points. At max, it takes me 15 minutes to go through and complete the whole checklist (that means I can do it all before the kiddos even wake up in the morning!). In 5 days, I can earn 1,000 points just from doing the checklist, not counting all of the points I earn from the deals I post or validate or my referrals!
The easiest things for me to do is to just validate/invalidate deals, like deals I find useful, and share deals I want my followers to know about. I also find it super easy to use Dealspotr from my smartphone rather than on the computer, just for the sake of being able to take screenshots and upload them easily.
What I tend to find difficult is actually finding and posting a deal that someone hasn't already posted. It seems that many of the users add deals as soon as they see them (which is awesome if you're on the site to save money), which can limit me from getting more points for finding the deals first.
But many times, I do find deals first. I find deals:
in company emails (think of all the emails you sign up for when you shop!)
on Facebook
on company websites
As soon as those emails start filling my inbox in the morning, I browse through them to see what great deals I can share. I find out as much as I can and go right to Dealspotr to see if I am the first to post the deal. I also post deals throughout the day, especially if a new deal shows up on my Facebook feed.
So far, as of April 8th, I have:
saved others $1,538,
posted 81 deals,
had 10 Hot deals,
and had 7 On Fire deals
In March alone I earned enough points for two $20 Amazon gift cards. Soon I'll be able to get another gift card!
Do I like Dealspotr? Yes! Would I recommend it? Yes! If you have 10-15 minutes a day, you can use Dealspotr with ease to both save money and earn rewards.
Read my review with DealSpotr to learn more about me!
Want to Join Dealspotr?
When you first join using my referral link (blogger? Look below), you can earn your first 5,000 points. From there, you can earn more points by completing your new member checklist, your daily checklist, and any additional deals you post/validate.
Let me know in a comment below when you join so I can follow you!
Need more info? Let me know what I can add to my Dealspotr review!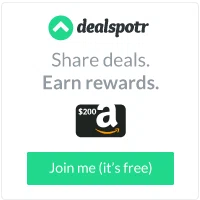 Are You a Blogger or an Influencer and Want to Join Dealspotr?
If you are a blogger or influencer looking for another way to earn money, you can join Dealspotr as an influencer. (To join, you need an access code. Please email me at mommyknowswhatsbest@gmail.com with your blog info and I can send you one!) Influencers get access to more opportunities to earn with Dealspotr, plus you can share all of the deals you find directly with your fans and followers!
[bctt tweet="I'm joining @mkwbbymarissa on Dealspotr, and you can too! It's #free to join! #ad #savemoney #dealspotr" via="no"]
I was compensated for my Dealspotr Review, on behalf of Dealspotr, where I am an influencer member. All words and opinions are mine. Referral links are included in this post.