What are the best newborn diapers? Learn how to get diaper sample packs to try multiple brands of baby diapers!
Best Newborn Diapers
When you become a new parent, you need to make a lot of decisions regarding what supplies and gear you need for your baby. Of all the supplies you need, diapers end up being one of the most important things on your list. Why? A newborn baby goes through roughly 10-15 diapers a day, and you want to be absolutely certain that those diapers will catch all of the..ahem…messes!
How can you be certain that you have the best diapers for your baby before the baby is even born??
I hate to break it to you, but it's impossible to tell what diapers will be best for your baby before he or she arrives, but thanks to Diaper Dabbler, you can try a variety of diapers on your baby when he or she is born before you decide on the right kind for you.
image via Diaper Dabbler
Thanks to Diaper Dabbler, I was sent a diaper sample pack to review!
Disclosure: I got these sample diaper packs in order to write a review. There are affiliate links in this post. The words and opinions are mine.
Which Diapers are Best?
Diaper Dabbler can send new parents (or even experienced parents looking for new diapers) a diaper sample packs for the cost of a single box of diapers. This way, you aren't paying for a box of every single kind of diaper. You get three to try of chosen brands, and using Diaper Dabbler's helpful comparison chart, you can decide which diapers you'll stick with.
Since my baby boy is now in size 3 diapers, I was sent the Teetering Toddler Pack. Inside the box I found a nice card from Diaper Dabbler and a nicely wrapped group of diapers in tissue paper. It definitely was a nice presentation, which would make this an awesome shower gift for a mommy-to-be!
The card contains a comparison chart so that as you try the diapers inside, you give a rating to keep track of which ones you liked and which ones you didn't like.
Each sample was wrapped in plastic and clearly labeled so that I knew which ones I was trying. In my pack I received:
Pampers
Target's Up & Up
The Honest Company
Naty
Earth's Best
Seventh Generation
I was able to choose which three brands I wanted to compare. I kinda had the edge being an experienced parent (this is baby #3, after all!), so I knew which ones I were among the best for my baby.
I liked the variety of diapers I could choose from and that I had the option to choose from natural diapers as well.
Even as an experienced parent, I was surprised at how the brands I chose measured up. I had only used two out of the six brands I tried, and I enjoyed trying them all on my baby to see which ones were truly the best fit for him.
If I were a new parent, I would go for the Prepared Parent Newborn sample box, which has 27 varieties of diapers to try for the cost of only 2-3 boxes of diapers. Inside, you get 8 varieties of Newborn diapers and 21 varieties of Size 1 diapers (Why only 8 varieties of Newborn sized diapers? Babies outgrow that size very fast. Just wait and see!). You also get a free copy of Baby 411 and free samples of wipes. What a great deal!
There are also potty trainer sample packs for older kids. I would order that pack right before my toddler began potty training so that I was prepared.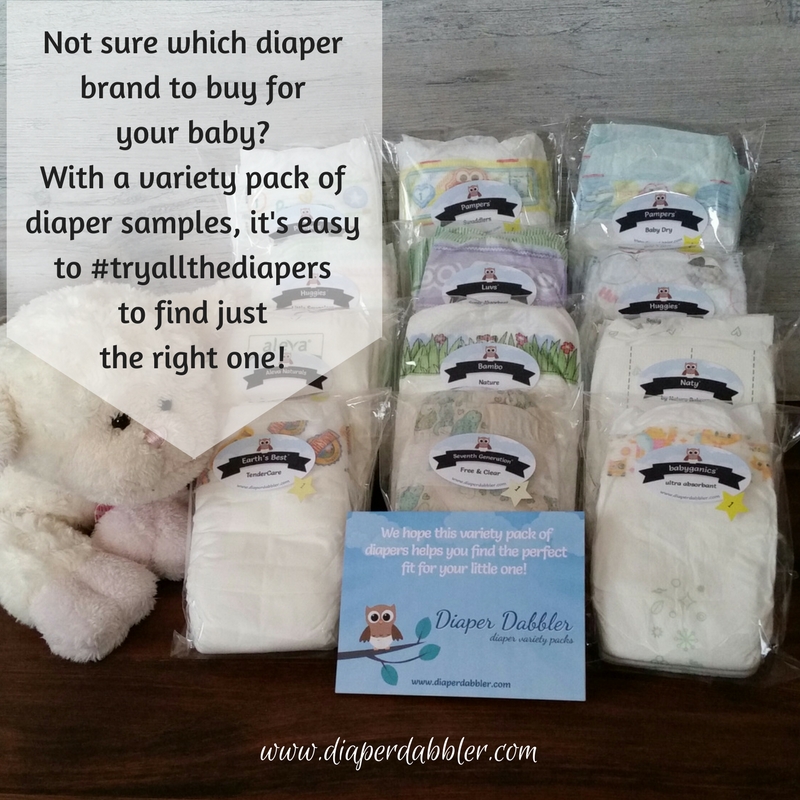 If you are a new parent who wants to check out the available varieties of diapers or an experienced parent looking for a new diaper to try, I highly suggest checking out Diaper Dabbler before you spend any money on diapers!
Follow Diaper Dabbler on Facebook here to receive updates about sales and discounts!